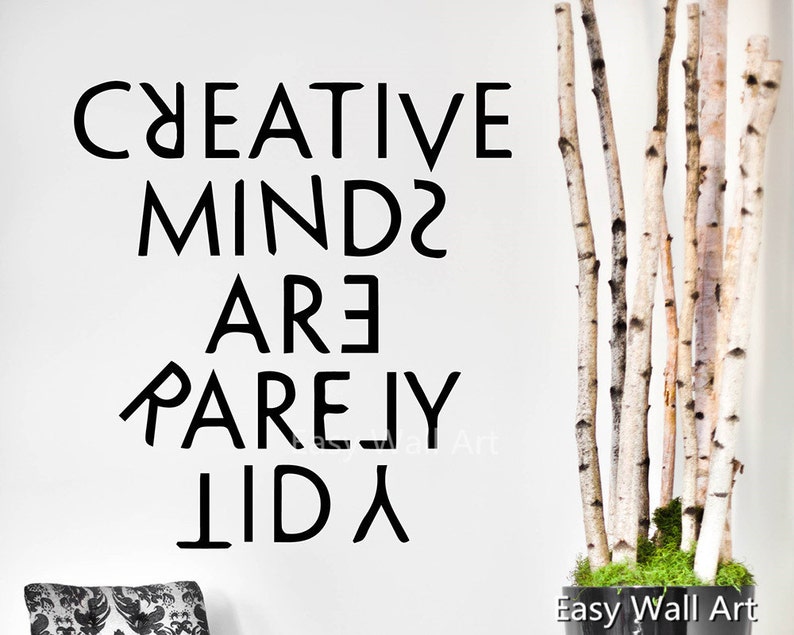 Creative Minds are Rarely Tidy by HappyWallzArt

Inspirational and Poignant Quotes about the Mind to Both Educate and Decorate the Walls
Whether it's a quote by Napoleon Hill or Gordon B.Hinckley, quotes about the mind can pertain to a variety of emotions and people. It's safe to say that many of us forget that the mind is a muscle like any other muscle in the body and it needs exercise and nurturing as well.
Below you'll find quotes about the mind as they relate to children, peace, teachers, love and more.
Vinyl wall lettering is a fast and practical way to put up wall quotes: They're ready made, and depending upon the quality, many can be re-positioned and removed without the worry of damaging walls.
Great Minds Wall Quote
A very accurate statement! Great minds discuss ideas…very very true. It's easy to loose focus on what's important in life. Often we get side tracked discussing mundane things or worse, talking about other people. When we spend most our time thinking up new ideas and perhaps discussing them with others, we discover what a rare bird we are.
Napoleon Hill Wall Quote – Whatever the Mind Can Conceive…
One of the best quotes. A profound message for everyone, and a message to remember every single day as we live our life.  When we're able to see our heading, and believe we CAN get there, the 'how' takes care of itself. It's belief that is key. Think about it; how affective are you when you're experiencing doubt and second guessing yourself versus those times in your life when pure knowingness pushed you through.
Great Minds, Average Minds, Small Minds Wall Quote by WallDecalsAndQuotesWhatever the Mind Can Conceive Wall Quote by NuovoCreationsThe Only Limit is You by HomeArtStickersA Negative Mind Will Never Give a Positive Life by thestickerhut
Buy or Bid on eBay – Wall Quotes about the Mind
About Barbara & Funkthishouse
Barbara is a home decor rebel who blames her decades in the real estate industry for her love of color! Since leaving neutral behind, she's built Funkthishouse.com, a place where souls once trapped in neutral-decor-world roam free and funk'n love it!
"Hey There! Thanks for stopping by today. I'm Barbara Cipak, Owner of Funkthishouse; a place where you can safely rebel against neutral decor.
My nutty passion is finding funky, colorful, and interesting products for the home or office. The products featured are suggested from companies I've established an affiliated relationship with, and in return, earn a small commission when items are sold. Visit FAQs for more about Funkthishouse and the whole funky story :)"
Barbara Cipak is an Independent Associate participant in the Amazon Services LLC Associates Program, an affiliate advertising program designed to provide a means for sites to earn advertising fees by advertising and linking to Amazon.com, Amazon.ca Endless.com, MYHABIT.com, SmallParts.com, Wireless.com- Amazon, the Amazon logo, MYHABIT, and the MYHABIT logo are trademarks of Amazon.com, Inc. or its affiliates.
Funkthishouse Terms of Use/Privacy Policy/Cookies