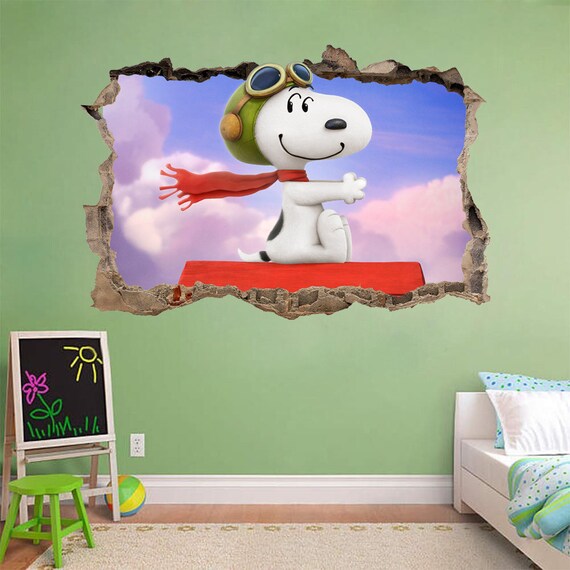 Snoopy Smashed Wall Red Baron Wall Decal by DecorShopDesigns

These Artistic Snoopy Vinyl Wall Decals also Include other Peanuts Characters
Everyone loves Snoopy. With vinyl wall decals it's now easy to feature lovable Snoopy in any room. Whether it's a classroom, a bedroom or a playroom, Snoopy can be the focus.
Don't forget, wall decals make an original gift. Add a Snoopy vinyl wall decal as a secondary item to a Peanuts themed gift, or how about a gift for a grade school teacher. Teachers too often end up purchasing supplies for their students, making artsy classroom gifts like this a big help.
The decals featured below are provided by a variety of Etsy Shop Owners. Once you visit the actual product page you'll get more information including price, size, and shipping options. In most cases products are promoted as handmade or custom made. The shop owner generally provides details about what they do for you in terms of inclusions and optional design requests. You'll see their contact information once you visit the product page.
These Snoopy vinyl wall decals have been featured due to their colorful, fun, and uniquely animated appearance. They'd especially suit a Peanuts themed room, or of course to add interest in a classroom.
Vinyl decals are popular because of their ease to put up and take down. Depending upon the quality of the decal, some can easily be relocated without ruining them, and some can be taken down without the worry of wall damage. Again, shop owners can provide you with further details regarding these matters. It is however the quality of the vinyl that normally determines their ability to be re-used. Cheaper decals tend to be a one time use, however again, it depends on the seller and where they aquire their vinyl and the vinyl they're using.
Check out these fun Snoopy vinyl wall decals:
Peanuts Snoopy 3D Faux Window Wall Decal by DecorShopDesignsSnoopy and Woodstock Smashed Wall Decal by DecorShopDesignsSnoopy and Charlie Brown Smashed Wall Decal by DecorShopDesignsSnoopy Vinyl Decals Available in Various Colors by StickyLickyStudio
About Barbara & Funkthishouse
Barbara is a home decor rebel who blames her decades in the real estate industry for her love of color! Since leaving neutral behind, she's built Funkthishouse.com, a place where souls once trapped in neutral-decor-world roam free and funk'n love it!


My nutty passion is finding funky, colorful, and interesting products for the home or office. The products featured are suggested from companies I've established an affiliated relationship with, and in return, earn a small commission when items are sold. Visit FAQs for more about Funkthishouse and the whole funky story :)"
Copyright secured by Digiprove © 2017
Acknowledgements: Products/Photos Affiliated