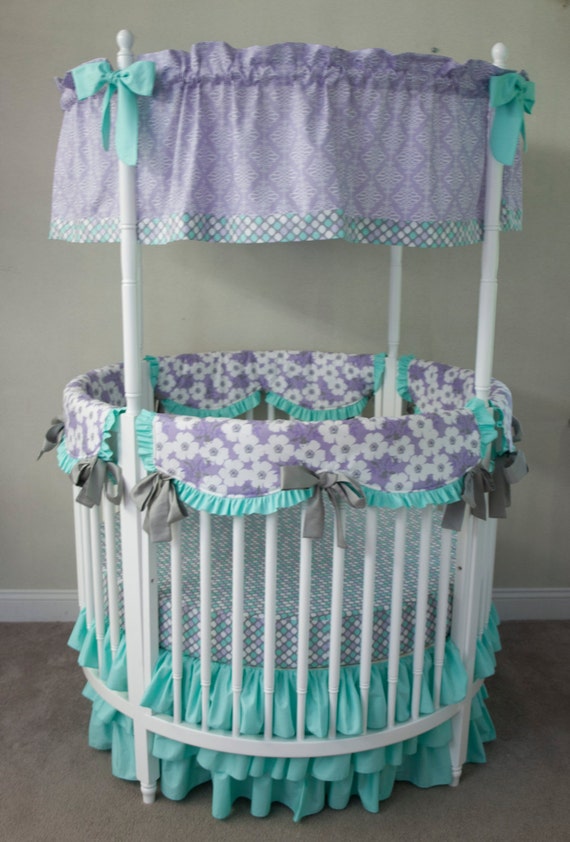 Round Crib Bedding Set by HandmadeBySasha
Handmade/Custom Made Round Crib Bedding Sets to Complete Your Nursery Decor
The Etsy round crib bedding sets featured here are custom made to order.
Once you visit the product you'll see a list of what's included with each set along with ordering details as well as reviews (if any) by previous buyers.
With a custom made round crib bedding set, you'll be able to more personally discuss what you need and thus end up with an end product that reflects what you're decoratively trying to achieve.
You'll notice that crib sets come with different pieces included: Most sets include the basic; the crib sheet, the crib rail covers and the crib skirt. However with a round crib, there are additional decorating elements you may want to include, typically they include a canopy and drapes. The set featured in the main photo is a set that includes the basic items plus the canopy set.
The Benefits to Using a Round Crib
If your child's bedroom is small, a round crib can better utilize space
A round crib can be featured away from the walls, even in the middle of the room
As baby gets a little older, he/she has a 360 degree view of the room
With a crib in the middle of the room, access to baby is easier
A round crib with decorative crib bedding can serve as the room's focal point
When baby becomes mobile in the room, there are no corners on the crib to bump into
Your Nursery will be different than typical baby rooms
With the crib in the middle of the room, all walls can be used for dressers or storage
Best of all, you'll be supporting products made in the USA, as these custom made items by Etsy are made by Sellers in the United States. Be sure to check shipping details, as some only ship to those living in the USA.
Creative Round Crib Bedding Sets:
Nautical Round Crib Bedding Set by CutiePatootieBeddingAqua & Navy Round Crib Bedding Set by ButterBeansBoutiqueRound Crib Set-Aqua, Orange & Gray by ButterBeansBoutiqueRound Mint and Gold Crib Bedding Set by CribBeddingByBB
About Barbara & Funkthishouse
Barbara is a home decor rebel who blames her decades in the real estate industry for her love of color! Since leaving neutral behind, she's built Funkthishouse.com, a place where souls once trapped in neutral-decor-world roam free and funk'n love it!
"Hey There! Thanks for stopping by today. I'm Barbara Cipak, Owner of Funkthishouse; a place where you can safely rebel against neutral decor.
My nutty passion is finding funky, colorful, and interesting products for the home or office. The products featured are suggested from companies I've established an affiliated relationship with, and in return, earn a small commission when items are sold. Visit FAQs for more about Funkthishouse and the whole funky story :)"
Barbara Cipak is an Independent Associate participant in the Amazon Services LLC Associates Program, an affiliate advertising program designed to provide a means for sites to earn advertising fees by advertising and linking to Amazon.com, Amazon.ca Endless.com, MYHABIT.com, SmallParts.com, Wireless.com- Amazon, the Amazon logo, MYHABIT, and the MYHABIT logo are trademarks of Amazon.com, Inc. or its affiliates.
Copyright secured by Digiprove © 2016-2017
Acknowledgements: Products/Photos Affiliated