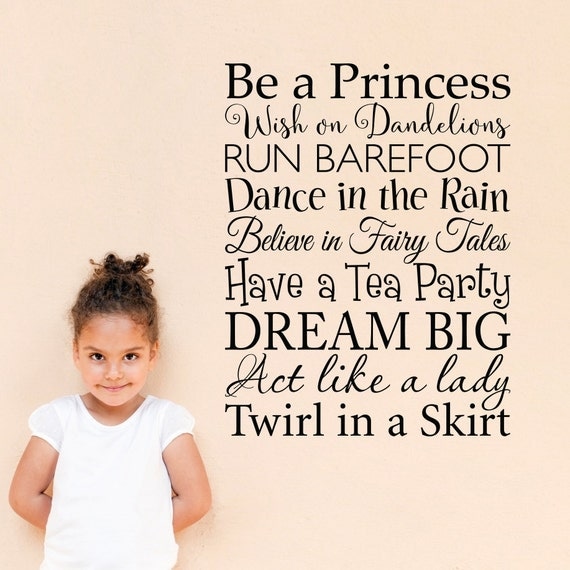 Be a Princess Wall Quote Decal by StephenEdwardGraphic

Princess Wall Quotes and Princess Wall Decals for the future Queen in the House!
Is there a princess in your house? Does she need a Princess Wall Quote to remind everyone, that yes, I am the future Queen? Ha! well, let's face it, this could be true for a few girly girls! But that's why we love them, our little Princess deserves her title on the wall!
With a quote about her being your princess, perhaps she'll always remember that she's worth being treated like a Princess from the significant people that will become a part of her life as she grows up.
Here you'll find a selection of princess wall quotes and princess wall decals suitable for any bedroom, or any room in the house for that matter! ..ok, maybe NOT the kitchen..but the choice is yours.
[Click to Tweet this] – 'We can't all be Princesses, someone has to clap as I go by' #funnyprincess #princess
Girls Princess Tiara Purple Glitter Crown Personalized Custom Name Nursery Wall Decal, Size Small Girls Room Wall Decals, Princess Wall Decals, Nursery Decals, Plus Free Hello Door DecalDiggoo Once Upon A Time Wall Decal Quote Princess Crown Wall Decal Princess Room Decor Girls Nursery Wall Art Sticker (Gold,14Vinyl Wall Art Decal – Not All Girls are Princesses Some are Superheroes – 23Soccer Wall Decals for Girls This Princess Wears Cleats Art Decor Quote 23×8-Inch PlumNever Let Anyone Dull Your Sparkle Vinyl Art Wall Decal Quote Girl Bedroom Decor Princess Decor Sparkle Quote Sparkle VinylSHELLSTYLE Inspirational Wall Decals Quotes (If You can Dream it, You can do it.)Blinggo NOT Easy Being A Princess Girl Wall Quote Sticker Graphic Vinyl Home Kid décorDS Inspirational Decals Girls Kids Bedroom How to Become A True Princess Vinyl Adhesive Wall Decal Quotes – 20
About Barbara & Funkthishouse
***As an Amazon Associate, I earn commission from qualifying purchases***I also earn commission from other company affiliated relationships not limited to and including; Shopstyle, eBay, Shareasale, AWIN, Etsy, iTunes, Advertising, and Viglink.
"Hey There! Thanks for stopping by today. I'm Barbara Cipak, Owner of Funkthishouse; a place where you can safely rebel against neutral decor. My nutty passion is finding funky, and interesting products for the home or office. I'm a home decor rebel who blames her decades in the real estate industry for my love of color! Since leaving neutral behind, I've built Funkthishouse.com, a place where souls once trapped in neutral-decor-world roam free and funk'n love it. Visit FAQs for more about Funkthishouse and the whole funky story.

The products featured are suggested from companies I've established an affiliated relationship with including ShopStyle, Etsy/Awin, Amazon, Shareasale/Awin, eBay, Viglink, and in return, earn a commission when items are sold.

***Barbara Cipak is an Independent Associate participant in the Amazon Services LLC Associates Program, an affiliate advertising program designed to provide a means for sites to earn advertising fees by advertising and linking to Amazon.com Amazon UK, Endless.com, MYHABIT.com, SmallParts.com, Wireless.com- Amazon, the Amazon logo, MYHABIT, and the MYHABIT logo are trademarks of Amazon.com, Inc. or its affiliates.***

Funkthishouse Terms of Use/Privacy Policy/Cookies

"Hey There! Thanks for stopping by today. I'm Barbara Cipak, Owner of Funkthishouse; a place where you can safely rebel against neutral decor. My nutty passion is finding funky, and interesting products for the home or office. I'm a home decor rebel who blames her decades in the real estate industry for my love of color! Since leaving neutral behind, I've built Funkthishouse.com, a place where souls once trapped in neutral-decor-world roam free and funk'n love it. Visit
FAQs
for more about Funkthishouse and the whole funky story.
The products featured are suggested from companies I've established an affiliated relationship with including ShopStyle, Etsy/Awin, Amazon, Shareasale/Awin, eBay, Viglink, and in return, earn a commission when items are sold.
***
Barbara Cipak is an Independent Associate participant in the Amazon Services LLC Associates Program, an affiliate advertising program designed to provide a means for sites to earn advertising fees by advertising and linking to Amazon.com Amazon UK, Endless.com, MYHABIT.com, SmallParts.com, Wireless.com- Amazon, the Amazon logo, MYHABIT, and the MYHABIT logo are trademarks of Amazon.com, Inc. or its affiliates.***


Funkthishouse Terms of Use/Privacy Policy/Cookies