Manual 46 X 60-Inch Mother's Day Fringed 2.5-Layer Throw, Mother Poem
When Mom Deserves Something Unique Because She Rises above All Other Mom's in Your Book
These days, it's often the personal, sentimental gifts that make the biggest impact. When someone is hard to buy for, pillows decorated with quotes that honor mom, or show mom how special she is, are a practical choice that will last for years.
If you feel a pillow isn't enough, then make it a combo gift by adding a lovely throw blanket. You can even kick it up a notch by adding mom's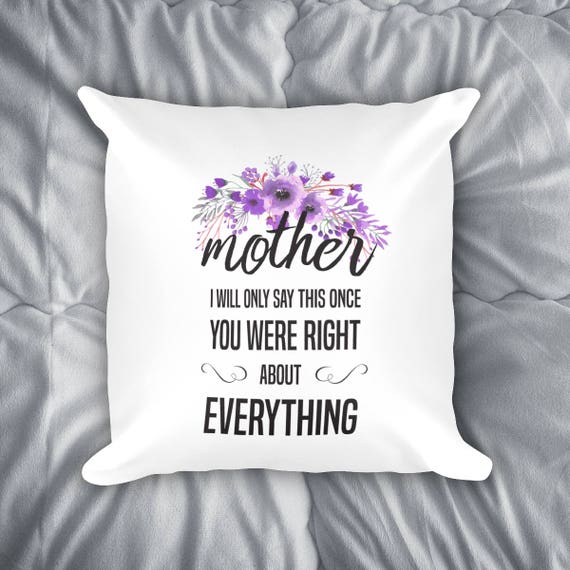 Mom Was Right Throw Pillow byPaperSonatafavorite bottle of wine. The entire gift is not only comforting and relaxing, it demonstrates that you've put some careful thought into it.
Mom Pillows and Throw Blankets are gifts geared specifically for her personal use. Small appliances and other handy household items are lovely gifts as well, however, when you're seeking something that says, 'this is just for you mom', then pillows and throws work very well. They tell mom, 'I've noticed how much you do, and this is me telling you to put your feet up and unwind because you've more than earned it'.
Mom will more than likely keep her pillow and throw for years, and best of all, if she's on the road a lot, she can use them in the car.
By the way, you really don't have to worry about a direct match when it comes to mom pillows and throw blankets. You can always choose colors that go together, however, if the don't that's ok too; mom doesn't have to use them together. Perhaps she'll keep the throw for the couch and the pillow in her room, or even her car.
Pillows and throw blankets aren't what they used to be, there are an incredible number of different designs, however, here we'll focus on designs that specifically honor Mom.
Mom Throw Blankets:
Manual Mothers Day Collection 50 x 60-Inch Tapestry Throw, A Mother's Love PoemMom Life 85222 Best Embroidered Plush Throw BlanketStrength and Dignity Proverbs 31:25 All Cotton 52 x 68 Tapestry Throw BlanketCafePress – Baseball Mom – Soft Fleece Throw Blanket, 50
Mom Throw Blankets on eBay:
About Barbara & Funkthishouse
Barbara is a home decor rebel who blames her decades in the real estate industry for her love of color! Since leaving neutral behind, she's built Funkthishouse.com, a place where souls once trapped in neutral-decor-world roam free and funk'n love it!
"Hey There! Thanks for stopping by today. I'm Barbara Cipak, Owner of Funkthishouse; a place where you can safely rebel against neutral decor.
My nutty passion is finding funky, colorful, and interesting products for the home or office. The products featured are suggested from companies I've established an affiliated relationship with, and in return, earn a small commission when items are sold. Visit FAQs for more about Funkthishouse and the whole funky story :)"
Barbara Cipak is an Independent Associate participant in the Amazon Services LLC Associates Program, an affiliate advertising program designed to provide a means for sites to earn advertising fees by advertising and linking to Amazon.com, Amazon.ca Endless.com, MYHABIT.com, SmallParts.com, Wireless.com- Amazon, the Amazon logo, MYHABIT, and the MYHABIT logo are trademarks of Amazon.com, Inc. or its affiliates.
Copyright secured by Digiprove © 2016-2017
Acknowledgements: Products/Photos Affiliated