Photo: Funky Checkered Abstract Pillow
Modern Funky Abstract Pillows
You may have seen the other Funky Pillow Page, however my travels around the web has introduced me to another one! How cute is this!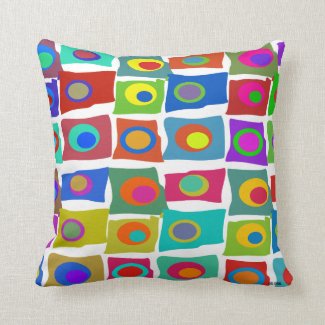 Mid-Century Modern Funky Abstract Squares Pillow by MCMstyle
Browse for Pillows at Zazzle
This qualifies as Funk'N Wild! But in a Good Way! You could easily add this pillow to a retro 1950's or 1960's themed space, but yet it works for a modern space as well.
The multiple colors in this design make it easy for you to find a way to fit it into a space with virtually any other color. The circles and dots also allow you to get creative with opposites – Go funk'n wild and add circles and dots to a room featuring stripes; watch the bottom video for tips on how to mix patterns.
Understanding color and how to connect them isn't for the faint of heart! Getting funky with decor requires us to have a fundamental understanding of how different colors interact.
Above Featured Video: A basic video from Better Homes and Gardens Magazine to help you get started with the fundamentals of color and how they appear on a color wheel and ultimately connect to each other.
Another Seriously Funked-Out Pillow, Get a Load of this One! Love it!
The bravest soul, the most skilled decorator, and YOU could get away with adding this to a space!
If you're a little confused on how to mix patterns and colors together, you'll find this short video on how to do it helpful…I know I did.
As you may know from this website, I'm not afraid of color, although, because of my real estate background, I do try not to over-do it (even though part of me wants to!)
Here's a brief article I put together on mixing a patterned sofa with a patterned couch in my own home.
Abstract Pillows on eBay:
Copyright secured by Digiprove © 2014-2016
Acknowledgements: Products/Photos Affiliated