Iconics Anchor Marquee Light – 21W X 4D X 30H in.
You're Almost Done Your Nautical Themed Room; Just the Wall Accessories to go Up
In life they say it's the small things that make the biggest difference. That saying goes for home or office decorating as well. It's ALWAYS the little things you add at the end of a large decorating project that give a room the pulled-together finished look.
Why Lighted Anchor Wall Decor?
One of the best ways to get a two-fer in decorating is to combine lighting with a decorative and creative wall accessory. For that reason, lighted Anchor wall decor included in a nautical theme is a perfect way to accessorize using an aspect of the theme that also provides ambiance and mood setting.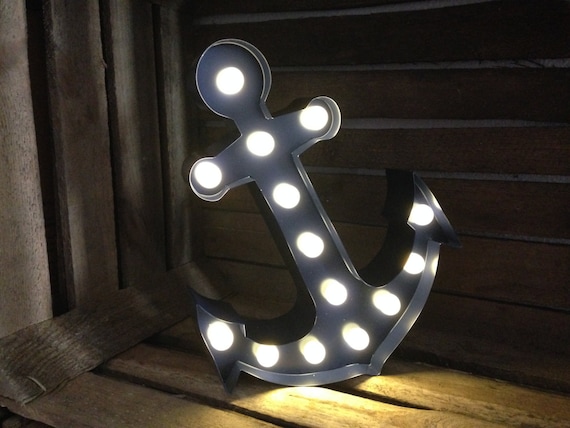 12 Inch LED Lighted Wall Anchor by RupandFornCreative

What about the Cords: You may be thinking you don't want any cords hanging down from the wall; if that's the case, you can plan to position the anchor above a piece of furniture such as a higher dresser or bookcase so the cord is barely seen hidden behind the furniture.
Also, you can go the route of a battery operated lighted wall anchor. If the decorative anchor permits the use of rechargeable batteries, even better.
On the other hand, if you're under a renovation and can plan ahead, you can easily include a lighted anchor that plugs into the wall; just have the electrical cable run behind the wall.
Price Range Can Vary Substantially: You're going to find quite a difference in pricing between some of these units. Most of the reasons being the size, weight, whether they're electrical, and also whether they're custom made.
For example, the battery operated wall anchor featured here in blue, is much less expensive since it's made of plastic and metal. However it's also handmade, so you're receiving something personal to you. Being a light weight item, it's ideal as an added piece for a themed birthday, anniversary, or wedding party. It's also an excellent choice for a child's bedroom.
More to Choose From:
Pack of 2 Distressed Teal Anchor Marquee Lighted Wall Decor 28Blue Lighted Wall AnchorMetal Lighted LED, Nautical Anchor Sign Wall Décor, Battery OperatedLighted ANCHOR nautical wall sign art rusted old fashioned metal tin BIG
LED Marquee Wall Anchors on eBay:
About Barbara & Funkthishouse
Barbara is a home decor rebel who blames her decades in the real estate industry for her love of color! Since leaving neutral behind, she's built Funkthishouse.com, a place where souls once trapped in neutral-decor-world roam free and funk'n love it!
"Hey There! Thanks for stopping by today. I'm Barbara Cipak, Owner of Funkthishouse; a place where you can safely rebel against neutral decor.
My nutty passion is finding funky, colorful, and interesting products for the home or office. The products featured are suggested from companies I've established an affiliated relationship with, and in return, earn a small commission when items are sold. Visit FAQs for more about Funkthishouse and the whole funky story :)"
Barbara Cipak is an Independent Associate participant in the Amazon Services LLC Associates Program, an affiliate advertising program designed to provide a means for sites to earn advertising fees by advertising and linking to Amazon.com, Amazon.ca Endless.com, MYHABIT.com, SmallParts.com, Wireless.com- Amazon, the Amazon logo, MYHABIT, and the MYHABIT logo are trademarks of Amazon.com, Inc. or its affiliates.
Funkthishouse Terms of Use/Privacy Policy/Cookies
Copyright secured by Digiprove © 2016-2017
Acknowledgements: Products/Photos Affiliated