Golf Wall Decals – "The Home of the Golfer, is on the Green"
In the heart of the avid golfer rests a peace only found on the green. Only the golfer understands the passion that burns for the club, the swing, and the ball, as though no one else gets it, and in their eyes, no one else will. Some say it goes well beyond the challenge, as though time itself is playing the game, with the player merely a witness.
Golf Art Prints Here – Additional Products Below
As the green claims the golfer, he submits. There is nothing more that exists; only 9 or 18, and although he has given himself over, he will never be owned. For his heart belongs to his one and only, the place where he is free to ultimately win the battle against his fiercest competitor, his harshest critic, his unreachable star…himself.
Golf decals capture a fleeting blink of this truth, and of course, are only a glimpse into the golfer's soul. To those of us who will never see the game of golf the way they do, these graphics open a window into a world that is not ours. They help us deconstruct the only thing we have been guilty of seeing, "the fame of golf."
Golf Wall Decals
Another option is to add golf quote decals to a small collection of golf art. Use the quotes to add interest or to express further what the art itself is saying.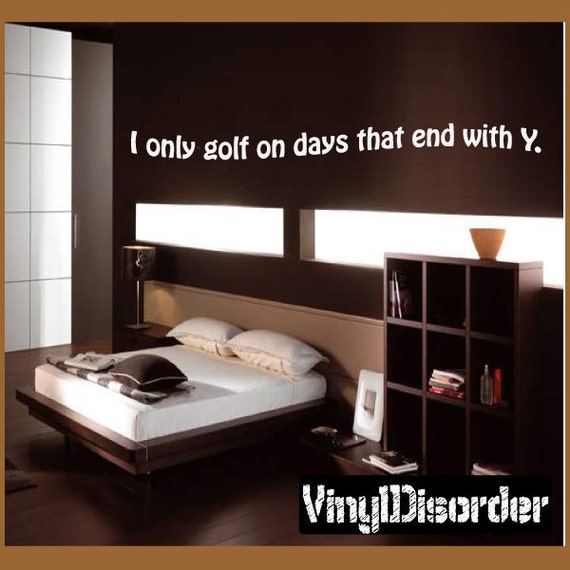 I Only Golf on Days that End in Y Wall Decal by VinylDisorder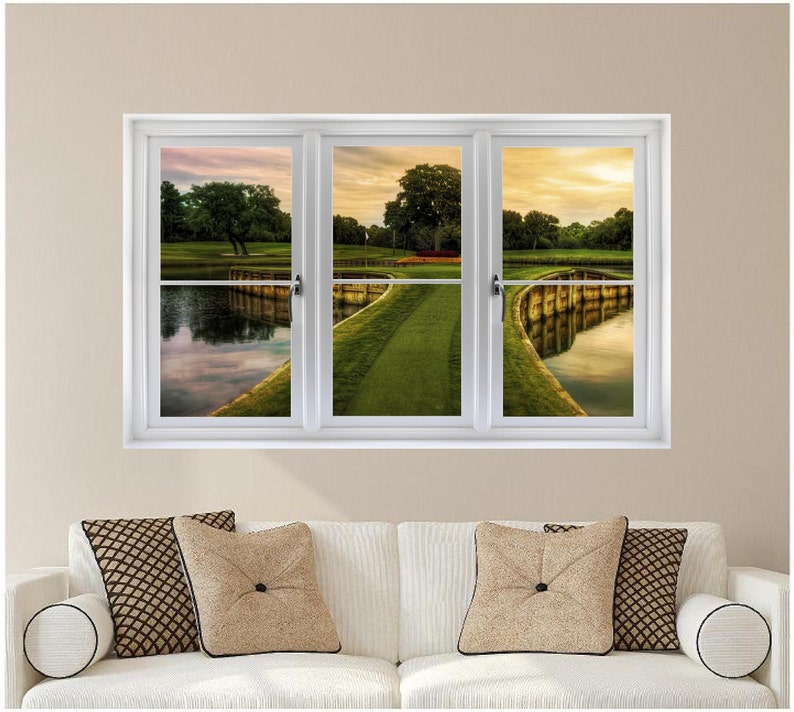 Hole 17 at TPC Sawgrass – Fabric Vinyl Sticker by StickitGraphixllc

Golf Wall Prints and Canvas Art:
About Barbara & Funkthishouse
***As an Amazon Associate, I earn commission from qualifying purchases***I also earn commission from other company affiliated relationships not limited to and including; Shopstyle, eBay, Shareasale, AWIN, Etsy, iTunes, Advertising, and Viglink.
"Hey There! Thanks for stopping by today. I'm Barbara Cipak, Owner of Funkthishouse; a place where you can safely rebel against neutral decor. My nutty passion is finding funky, and interesting products for the home or office. I'm a home decor rebel who blames her decades in the real estate industry for my love of color! Since leaving neutral behind, I've built Funkthishouse.com, a place where souls once trapped in neutral-decor-world roam free and funk'n love it. Visit FAQs for more about Funkthishouse and the whole funky story.

The products featured are suggested from companies I've established an affiliated relationship with including ShopStyle, Etsy/Awin, Amazon, Shareasale/Awin, eBay, Viglink, and in return, earn a commission when items are sold.

***Barbara Cipak is an Independent Associate participant in the Amazon Services LLC Associates Program, an affiliate advertising program designed to provide a means for sites to earn advertising fees by advertising and linking to Amazon.com Amazon UK, Endless.com, MYHABIT.com, SmallParts.com, Wireless.com- Amazon, the Amazon logo, MYHABIT, and the MYHABIT logo are trademarks of Amazon.com, Inc. or its affiliates.***

Funkthishouse Terms of Use/Privacy Policy/Cookies

"Hey There! Thanks for stopping by today. I'm Barbara Cipak, Owner of Funkthishouse; a place where you can safely rebel against neutral decor. My nutty passion is finding funky, and interesting products for the home or office. I'm a home decor rebel who blames her decades in the real estate industry for my love of color! Since leaving neutral behind, I've built Funkthishouse.com, a place where souls once trapped in neutral-decor-world roam free and funk'n love it. Visit
FAQs
for more about Funkthishouse and the whole funky story.
The products featured are suggested from companies I've established an affiliated relationship with including ShopStyle, Etsy/Awin, Amazon, Shareasale/Awin, eBay, Viglink, and in return, earn a commission when items are sold.
***
Barbara Cipak is an Independent Associate participant in the Amazon Services LLC Associates Program, an affiliate advertising program designed to provide a means for sites to earn advertising fees by advertising and linking to Amazon.com Amazon UK, Endless.com, MYHABIT.com, SmallParts.com, Wireless.com- Amazon, the Amazon logo, MYHABIT, and the MYHABIT logo are trademarks of Amazon.com, Inc. or its affiliates.***


Funkthishouse Terms of Use/Privacy Policy/Cookies