Gemini Symbol Art, Prints & History
The Gemini constellation is one of the more easily recognizable in the heavens.
Dating back to prehistory, the symbol of Gemini represents two stick figures said to represent the Roman number "two." This was the Spartan symbol for twin gods.
Hence, we know this symbol as the sign of the "Twins," denoting its bearer with the tag "twin personality." The Gemini Symbol is the "child" of the Zodiac.
Geminis have two personalities. The widespread consensus is that a Gemini can change their mind as often as they change clothes. Gemini is blessed with the gift of gab. They speak fast and fluently. They also possess an abundance of energy.
Gemini is ruled by the planet Mercury. Those born under this sign tend to get bored quickly. They prefer stimulating ideas with things to do.
Gemini Symbol Art is the most common type of home decor to choose from when you're looking to decorate a room based on your zodiac sign. However, there are many other creative Gemini decorating ideas.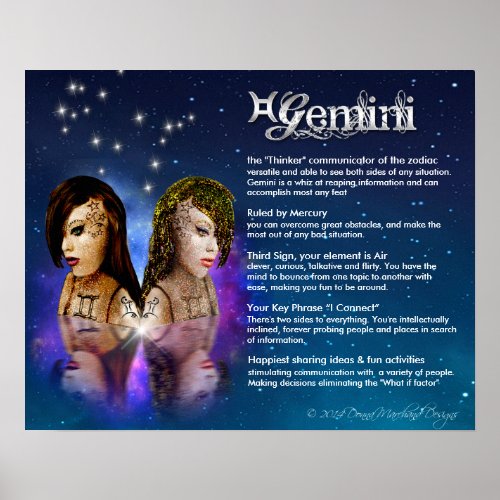 Gemini Characteristics Poster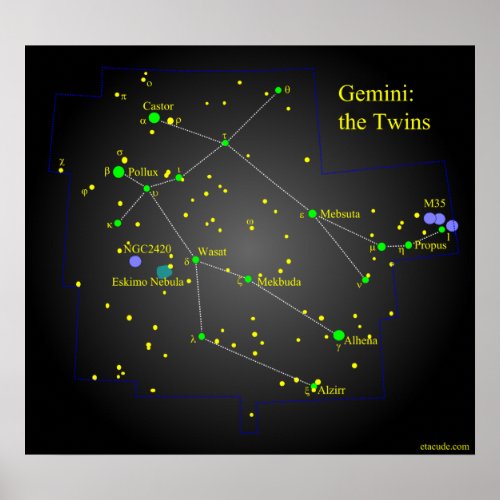 Gemini the Twins Constellation poster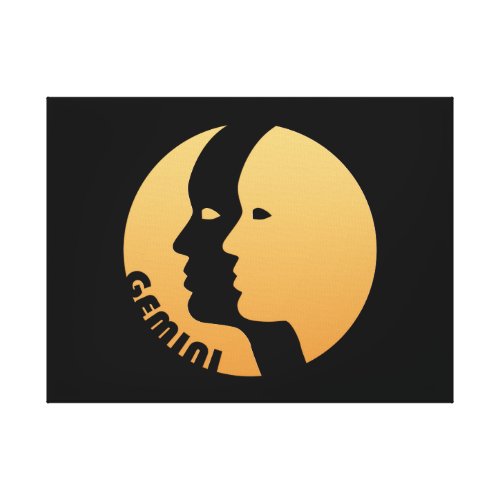 Gemini Zodiac Sign Canvas Print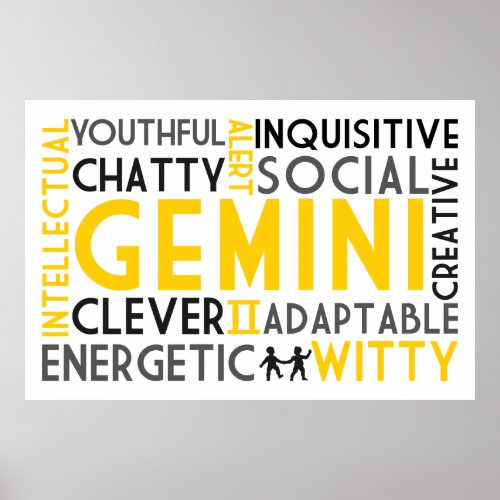 Gemini Astrology Word Collage Print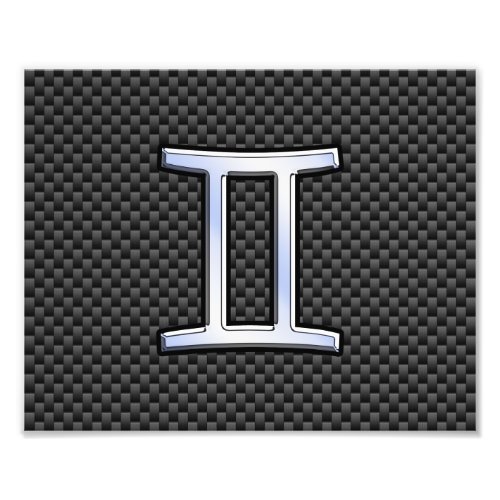 Gemini Zodiac Sign on Charcoal Carbon Fiber Print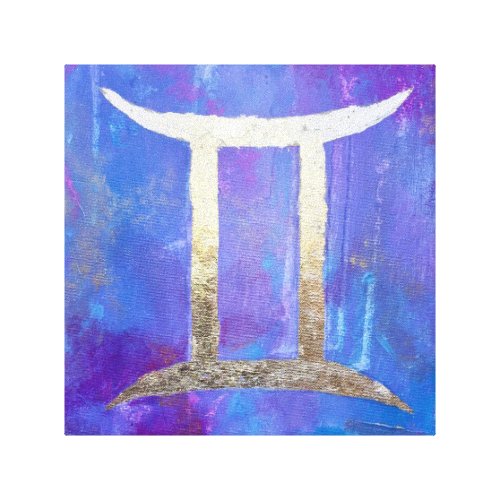 Zodiac: GEMINI Canvas Print

What History Tells Us About Gemini
History says the names of the Gemini Twins were Castor and Pollux. Their mother, Leda, had them from different fathers. Yes, that's right, twins with different fathers.  Leda conceived the twins on the same night. One twin was from her hubby (Castor) and thus a mortal. The other from Zeus (Pollux) and, therefore, immortal.
The story of Castor and Pollux is, however, a love story. Castor's talent was the ability to give love. He was also very good with horses. Pollux's predominant trait was his immortal powers. Castor and Pollux both fought in the Trojan War to help bring back their sister Helen to her hubby.
Caster died and left Pollux with a broken heart. Pollux begged Zeus to let Castor have the immortality Castor had. Zeus granted Pollux's request, and the constellation in the heavens is where you can find Castor and Pollux living eternally as the immortal twins.
About Barbara & Funkthishouse
***As an Amazon Associate, I earn commission from qualifying purchases***I also earn commission from other company affiliated relationships not limited to and including; Shopstyle, eBay, Shareasale, AWIN, Etsy, iTunes, Advertising, and Viglink.
"Hey There! Thanks for stopping by today. I'm Barbara Cipak, Owner of Funkthishouse; a place where you can safely rebel against neutral decor. My nutty passion is finding funky, and interesting products for the home or office. I'm a home decor rebel who blames her decades in the real estate industry for my love of color! Since leaving neutral behind, I've built Funkthishouse.com, a place where souls once trapped in neutral-decor-world roam free and funk'n love it. Visit FAQs for more about Funkthishouse and the whole funky story.

The products featured are suggested from companies I've established an affiliated relationship with including ShopStyle, Etsy/Awin, Amazon, Shareasale/Awin, eBay, Viglink, and in return, earn a commission when items are sold.

***Barbara Cipak is an Independent Associate participant in the Amazon Services LLC Associates Program, an affiliate advertising program designed to provide a means for sites to earn advertising fees by advertising and linking to Amazon.com Amazon UK, Endless.com, MYHABIT.com, SmallParts.com, Wireless.com- Amazon, the Amazon logo, MYHABIT, and the MYHABIT logo are trademarks of Amazon.com, Inc. or its affiliates.***

Funkthishouse Terms of Use/Privacy Policy/Cookies