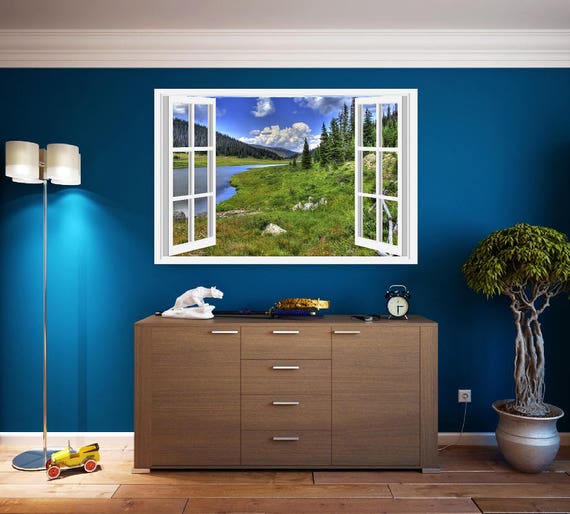 Faux Window Wall Decal of Colorado Rockies by KcustomDesign

How to Increase the Size of a Closed-In Space Using Faux Window Art
There is no doubt, we all have a windowless space or closed in area in our home or office. If you're at a loss as to how to open the space up, then you really should consider a Faux Window.
In the photo to the left, the person at this desk doesn't have to stare at a blank wall. In fact, by placing it slightly more at sitting eye level, this relaxing scene may inspire a little unexpected creativity.
If you have a smaller bedroom in your home, as we do, you can put one of these above the bed. In fact, our son is in the middle of choosing his favorite scene with plans to do just that. There are many faux window scenes to choose from. If you're a beach lover, then choose a beach scene.
You're not limited to just tropical and beach scenes either, look for mountain scenes, cabin scenes, river scenes, city scenes, sky scenes and so many more.
In fact you'll see a very interesting way to create a winter scene in your home by using a faux window. If you're one of those people located in a warmer climate who misses 'Christmas Snow', then you can certainly fill that void very inexpensively with fake window art. When the season is over, simply remove it.
Also, if you're stuck for a gift, this particular type of art is a terrific choice. We have a family member who longs for the beach after her holiday is finished, and Faux Window Beach Art is a perfect choice for her – can't wait 'til she opens this one!
Below you'll find a few other popular faux windows to choose from.
3D Window Decal Big Sur by ArtVintSunset Field 3D Window Decal by ArtVintT-Rex Open Window Wall Decal by StylesofLifeLighthouse Window Wall Decal by StylesofLife
Faux Window Art Decals on eBay:
About Barbara & Funkthishouse

Barbara is a home decor rebel who blames her decades in the real estate industry for her love of color! Since leaving neutral behind, she's built Funkthishouse.com, a place where souls once trapped in neutral-decor-world roam free and funk'n love it!

"Hey There! Thanks for stopping by today. I'm Barbara Cipak, Owner of Funkthishouse; a place where you can safely rebel against neutral decor.
My nutty passion is finding funky, colorful, and interesting products for the home or office. The products featured are suggested from companies I've established an affiliated relationship with, and in return, earn a small commission when items are sold. Visit FAQs for more about Funkthishouse and the whole funky story :)"
Barbara Cipak is an Independent Associate participant in the Amazon Services LLC Associates Program, an affiliate advertising program designed to provide a means for sites to earn advertising fees by advertising and linking to Amazon.com, Amazon.ca Endless.com, MYHABIT.com, SmallParts.com, Wireless.com- Amazon, the Amazon logo, MYHABIT, and the MYHABIT logo are trademarks of Amazon.com, Inc. or its affiliates.
Copyright secured by Digiprove © 2014-2018
Acknowledgements: Products/Photos Affiliated