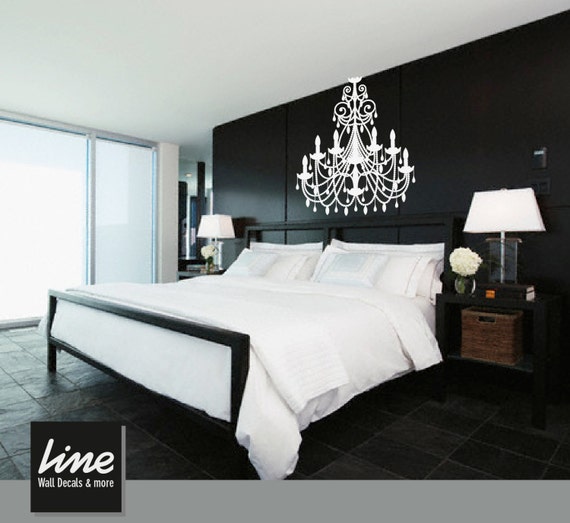 Chandelier Wall Decal by LimeWallDecor

When You Need Something with a Little More Funk for the Walls, these Chandelier Wall Graphics are Sure to Generate a Comment or Two
Today, there are volumes of wall decals to choose from, and some of them can genuinely make a unique statement.
Putting a Chandelier Decal on the wall to decorate a room is a terrific way to include an attractive conversation piece in the home or office without busting the bank.
Vinyl decals are fast replacing the larger project of painting and stenciling designs on a wall. Relative to painting, vinyl wall graphics go up quickly, and best of all, are removable. With so many professional designs to choose from, there's no longer the sole option of attempting to draw and paint murals on the wall. Now you can simply get the vinyl art or quote you like and put it up for all to see.
Above the Bed on the Wall – A Decorative Safety Solution
If you're looking to put something on the wall above the bed, but don't really want the worry of a heavy frame on the wall, then the nice thing about a graphic is that it goes directly onto the wall. There's no worry of it coming down on top of you. Graphics for the wall come in just about any style and design you can think of, including a chandelier, so go ahead and be as different as you want with this affordable art option.
Chandelier Wall Decal by StephenEdwardGraphicChandelier Wall Decal by VinylWallAccentsChandelier Wall Decal by NatureStyleChandelier Wall Decal by VinylWallAccents
About Barbara & Funkthishouse
***As an Amazon Associate, I earn commission from qualifying purchases***I also earn commission from other company affiliated relationships not limited to and including; Shopstyle, eBay, Shareasale, AWIN, Etsy, iTunes, Advertising, and Viglink.
"Hey There! Thanks for stopping by today. I'm Barbara Cipak, Owner of Funkthishouse; a place where you can safely rebel against neutral decor. My nutty passion is finding funky, and interesting products for the home or office. I'm a home decor rebel who blames her decades in the real estate industry for my love of color! Since leaving neutral behind, I've built Funkthishouse.com, a place where souls once trapped in neutral-decor-world roam free and funk'n love it. Visit FAQs for more about Funkthishouse and the whole funky story.

The products featured are suggested from companies I've established an affiliated relationship with including ShopStyle, Etsy/Awin, Amazon, Shareasale/Awin, eBay, Viglink, and in return, earn a commission when items are sold.

***Barbara Cipak is an Independent Associate participant in the Amazon Services LLC Associates Program, an affiliate advertising program designed to provide a means for sites to earn advertising fees by advertising and linking to Amazon.com Amazon UK, Endless.com, MYHABIT.com, SmallParts.com, Wireless.com- Amazon, the Amazon logo, MYHABIT, and the MYHABIT logo are trademarks of Amazon.com, Inc. or its affiliates.***

Funkthishouse Terms of Use/Privacy Policy/Cookies

"Hey There! Thanks for stopping by today. I'm Barbara Cipak, Owner of Funkthishouse; a place where you can safely rebel against neutral decor. My nutty passion is finding funky, and interesting products for the home or office. I'm a home decor rebel who blames her decades in the real estate industry for my love of color! Since leaving neutral behind, I've built Funkthishouse.com, a place where souls once trapped in neutral-decor-world roam free and funk'n love it. Visit
FAQs
for more about Funkthishouse and the whole funky story.
The products featured are suggested from companies I've established an affiliated relationship with including ShopStyle, Etsy/Awin, Amazon, Shareasale/Awin, eBay, Viglink, and in return, earn a commission when items are sold.
***
Barbara Cipak is an Independent Associate participant in the Amazon Services LLC Associates Program, an affiliate advertising program designed to provide a means for sites to earn advertising fees by advertising and linking to Amazon.com Amazon UK, Endless.com, MYHABIT.com, SmallParts.com, Wireless.com- Amazon, the Amazon logo, MYHABIT, and the MYHABIT logo are trademarks of Amazon.com, Inc. or its affiliates.***


Funkthishouse Terms of Use/Privacy Policy/Cookies