Finding a place for everything is challenging in a college dorm room. Whether sharing the space or not, college dorms are generally small. Creative storage solutions can make all the difference. Let's take a look at four gorgeous and practical college dorm room ideas.
1. A Cabinet for a Small Fridge and Microwave
The beautiful cabinet below is positioned under the window, making it an outstanding addition to the room's overall design. A horizontal unit uses more floor area than a standard vertical unit. Of course, there's more surface area for books, knick-knacks, and lamps with a horizontal unit.
2. Bed Frames with Built-in Storage
Swap out the existing dorms bed frame with one similar to the bed in the design featured below. Underneath the bed is not just a place to stuff things. If you prefer a neatly organized bed storage area, a bed frame with built-in drawers is ideal. This particular bed frame offers three drawers and storage in the headboard, and this one is much more elaborate with larger drawers and extra space.
3. A Small Sofa Seat – Extra Seating and Sleeping Space
If having a place to sit, other than on the bed, is a priority, then you'll love this particular design. The designer placed the couch between the beds to utilize the entire back wall. Don't limit yourself to just a sofa. Choose a sofa bed combo. That way, if you need extra sleeping space for a guest, your dorm is equipped for it. This particular sofa bed is ideal for small spaces. It's affordable, compact, and easy to unfold to a bed. There's another option for extra seating and sleeping – chairs that convert to beds. Yep, there's such a thing as a chair bed.
Another lovely feature in this room is the photo display. This decorative piece adds coziness and personality to the space by using window shutters and a faux picture frame window. If creating your own window picture frame isn't in the cards, then there's this affordable standard window photo collage frame from Overstock.
Notice the height of the beds. They're purposely raised with a long bed skirt that covers the clutter and frame below it. By raising the bed, there's a lot more storage available. In fact, depending upon how high the bed is raised, you can fit multiple storage containers underneath. Use storage bins to hold clothes, books, seasonal items, and more.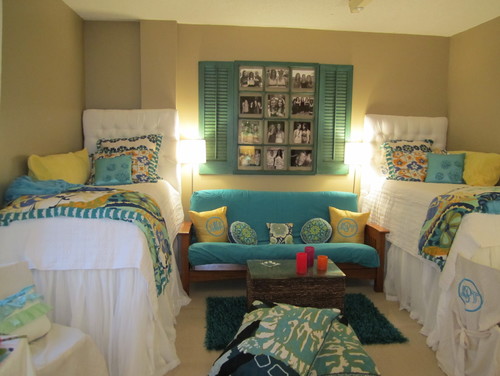 4. A Dorm Room that Goes Vertical
The design below features all things vertical. The bed is raised so that items can be stored underneath. Using the headboard as storage makes use of another normally vacant area. The desk features a tall hutch, and the narrow end table is the height of the higher bed. Even with all this storage, there's room for a small chair. Warmth and coziness are added by using textures such as faux fur pillows, patterns, and lovely thick bedding.
Need a desk for your Dorm? Here are several from various stores in various price ranges (One Stop Shop and Compare)