Hosting a Canada 150 Party? Need Party Ideas and Canada 150 Party Items?
If you already have your Canada 150 Flag, you're obviously on your way to getting prepared for Canada's big birthday.
Below are not just products listed from anywhere, every seller listed below ships from Canada and are located in Canada. You're not only celebrating Canada's milestone birthday, you're supporting Canadian Small Business in the process. These products are provided by sellers featured on Etsy.
Best of all, if you're living in Canada, you'll get the price for each item in Canadian dollars and there's no dollar exchange rate to factor in, no unexpected cross border duty charges, or unexpected higher shipping fees.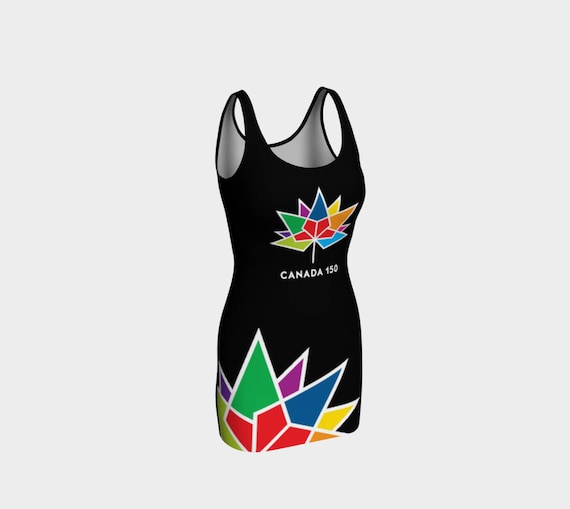 Canada 150 Dress by ImagineAvalon

The Hostess is Dressed for the Party – Wear a Canada 150 T-Shirt or How About a Canada 150 Bodycon Dress?
There are a number of T-Shirts to choose from, but for the ladies who prefer something a little different this Bodycon Dress not only shows curves, it also shows wardrobe creativity. It comes in various sizes ranging from extra small to extra large.  ImagineAvalon is the Toronto Etsy store that provides this item and they ship to both Canada and the United States.
As you can see from the photo, the dress hugs the body, however you can opt for a design that has a flare bottom skirt where the flare starts at the waist.
The product is even more Canadian than you might think, as it's made from 72% ecopoly/28% spandex that is manufactured in Canada. The dress is reversible, in that you can wear it backwards or frontwards.
There's more that makes this dress a terrific choice: The fabrics are made with EcoPoly where a third less energy and water are used than is used in typical polyester processes.
This dress is a win-win all the way around.
Below is a Collection of Creative Canada 150 Party Supply Ideas You Can Include in Your Party:
100ml/4onces of ORGANIC Maple Syrup from Québec by SaraFranceGlassArtCanada 150 Handcrafted Felt Banner by BrightDewBlossomCanada 150 Family Shirst bykkcustomkreationscaCanada Maple Leaf Red & White Garland by GFettiHandcrafted Solid Pine Canada Sign by TimberflagCanada 150 Soy Candles by NorthernLitesCoCanada 150 Balloons by RevelryPartyCompanyCanada Day Wreath by annacraftbasket
Canada Day Party Supplies on eBay:
About Barbara & Funkthishouse

Barbara is a home decor rebel who blames her decades in the real estate industry for her love of color! Since leaving neutral behind, she's built Funkthishouse.com, a place where souls once trapped in neutral-decor-world roam free and funk'n love it!

"Hey There! Thanks for stopping by today. I'm Barbara Cipak, Owner of Funkthishouse; a place where you can safely rebel against neutral decor.
My nutty passion is finding funky, colorful, and interesting products for the home or office. The products featured are suggested from companies I've established an affiliated relationship with, and in return, earn a small commission when items are sold. Visit FAQs for more about Funkthishouse and the whole funky story :)"
Barbara Cipak is an Independent Associate participant in the Amazon Services LLC Associates Program, an affiliate advertising program designed to provide a means for sites to earn advertising fees by advertising and linking to Amazon.com, Amazon.ca Endless.com, MYHABIT.com, SmallParts.com, Wireless.com- Amazon, the Amazon logo, MYHABIT, and the MYHABIT logo are trademarks of Amazon.com, Inc. or its affiliates.
Funkthishouse Terms of Use/Privacy Policy/Cookies