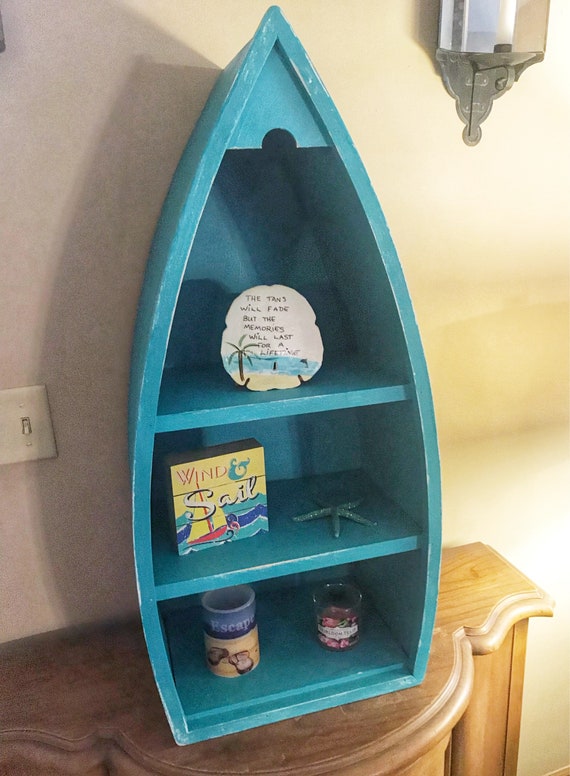 Custom Made Boat Shaped Cabinet by KnotInYourHouse
Add Some Fun to a Pirate or Nautical Themed Room with a Boat Shaped Bookcase
When a bedroom, office, playroom, living room or reading room needs something a little different to complete a Ship, Nautical or  Pirate theme, you can accessorize with funky things, like a boat shaped bookcase.
You'll notice that book shaped bookcases come in a variety of colors and shapes. With a darker colored wood you're able to include it in a space that's slightly more formal, or you can add it to a child's pirate themed space knowing that he'll have it for many years to come.
Simply changing out the contents of the bookcase will change the look and feel. For a young child, the shelves could feature baby books and decorations, and as he grows, those books can be replaced with more age appropriate knick-knacks and books.
You certainly don't have to use the shelves for books, you can use them for other items, such as toiletries and decor related items. In fact, these units can also be used in a bathroom as a funky way to hold toiletries, towels, candles and other sundry items.
The nice thing about funky ideas like this one is that you can use it in just about any room in the home … even the kitchen! If your kitchen has the space, use it as a creative way to display a wide array of spices and other useful baking, or cooking items.
[Click to Tweet] – Love the idea of a boat shaped bookcase #iwantthis
There's More, Choose from these Creative Designs:
Gorgeous Handmade Boat Bookshelves Made by PoppasBoatsGorgeous Handmade Boat Shelf Cabinets by HolidayDecoLTHandmade Boat Shelf for the Wall by KnotInYourHouseHandmade Unfinished Boat Shelves Made by PoppasBoats
Boat Shaped Bookcases on eBay:
About Barbara & Funkthishouse

Barbara is a home decor rebel who blames her decades in the real estate industry for her love of color! Since leaving neutral behind, she's built Funkthishouse.com, a place where souls once trapped in neutral-decor-world roam free and funk'n love it!

"Hey There! Thanks for stopping by today. I'm Barbara Cipak, Owner of Funkthishouse; a place where you can safely rebel against neutral decor.
My nutty passion is finding funky, colorful, and interesting products for the home or office. The products featured are suggested from companies I've established an affiliated relationship with, and in return, earn a small commission when items are sold. Visit FAQs for more about Funkthishouse and the whole funky story :)"
Barbara Cipak is an Independent Associate participant in the Amazon Services LLC Associates Program, an affiliate advertising program designed to provide a means for sites to earn advertising fees by advertising and linking to Amazon.com, Amazon.ca Endless.com, MYHABIT.com, SmallParts.com, Wireless.com- Amazon, the Amazon logo, MYHABIT, and the MYHABIT logo are trademarks of Amazon.com, Inc. or its affiliates.
Copyright secured by Digiprove © 2016-2018
Acknowledgements: Products/Photos Affiliated