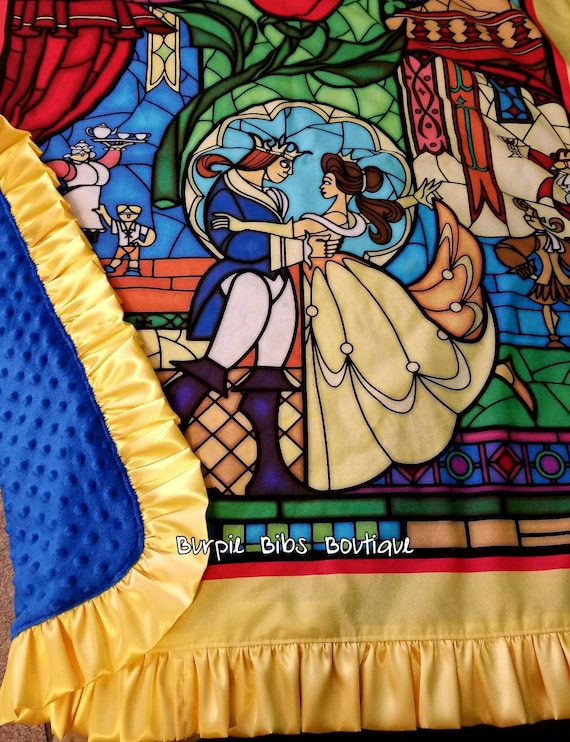 Beauty and the Beast Baby Blanket by BurpieBibsBoutique

When Finding a Ready Made Beauty and the Beast Crib Set is Difficult, Go with Custom Made
A custom made Beauty and the Beast Crib Set is not only a creatively unique way to decorate a daughter's room, it's also a keepsake that can be passed down in the family.
Themed crib bedding designed for baby's room allows the decorator inside of you to have a ton of fun pulling together all aspects involved in shaping the space such as; the crib bedding, flooring, rugs, drapes, lamps, dressers, wall art, wall decals, books, furnishings and toys.
When you're going through the expense of having a Beauty and The Beast Crib Set custom made, it's wise to choose the bedding first. Once you know the colors in the crib set, then you can pull out those colors and mix them into the rest of the room's accessories.
Colors and patterns can be overwhelming but choosing your custom made crib set first helps the design to fall into place. If you select a colorful and patterned Beauty and the Beast Crib Set, you can offset that busier design by choosing solid colors in accents; especially the drapes and rugs.
Picture it: A busy crib set with a solid colored rug and solid colored drapes (using color shades from the set) then colorful patterns in the accessories like, ornaments, books, a crib mobile, art work or decals for the wall … this fairly standard approach works.
The Etsy Sellers who offer the custom made crib bedding featured here are located in the United States, so if supporting US business is important to you, you'll certainly be doing that by placing a custom order with one of these talented sellers.
When you click on the featured Beauty and the Beast crib sets, you'll be taken directly to the sellers page where further information on the product is provided, such as what's included, the price, the size of the pieces, shipping details and how to place your order.
5pc Beauty and the Beast Crib Set by DeltaAnnsCreationsBeauty and the Beast Crib Sheet by glitterthreadBeauty and the Beast Quilt Only by QuiltsForU2Custom Made Bubble Baby Quilt by SweetDreamsByDebbie
Featured Video: Beauty and The Beast Official Music Video by DisneyMusicVevo
About Barbara & Funkthishouse
Barbara is a home decor rebel who blames her decades in the real estate industry for her love of color! Since leaving neutral behind, she's built Funkthishouse.com, a place where souls once trapped in neutral-decor-world roam free and funk'n love it!
"Hey There! Thanks for stopping by today. I'm Barbara Cipak, Owner of Funkthishouse; a place where you can safely rebel against neutral decor.
My nutty passion is finding funky, colorful, and interesting products for the home or office. The products featured are suggested from companies I've established an affiliated relationship with, and in return, earn a small commission when items are sold. Visit FAQs for more about Funkthishouse and the whole funky story :)"
Barbara Cipak is an Independent Associate participant in the Amazon Services LLC Associates Program, an affiliate advertising program designed to provide a means for sites to earn advertising fees by advertising and linking to Amazon.com, Amazon.ca Endless.com, MYHABIT.com, SmallParts.com, Wireless.com- Amazon, the Amazon logo, MYHABIT, and the MYHABIT logo are trademarks of Amazon.com, Inc. or its affiliates.
Copyright secured by Digiprove © 2017
Acknowledgements: Products/Photos Affiliated