Albert Einstein Wall Quotes Can be Featured in any Room in the Home or Office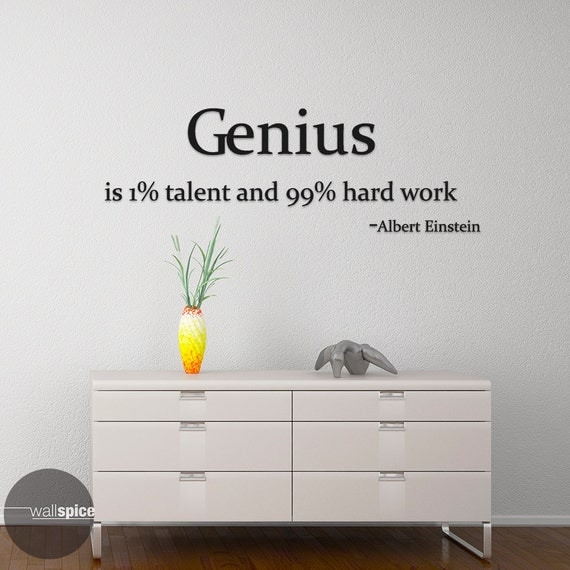 Genius is 1% Talent 99% Hard Work by WallSpiceDecals
Albert Einstein was a German Theoretical Physicist. He was born March 14th 1879, and passed away on April 18th, 1955.
Here you'll find wall decal quotes generally attributed to him. However, online it's difficult to confirm whether every single quote was in fact his. Most of them we've seen in one form or another in memes and items online.
If you're looking to add smarty pants inspiration to a room, vinyl wall lettering is a particularly easy and mess free way to put up wall quotes. You won't have to sand, paint or stencil.
Place these in an office, a den, a study, or in a main room of the home where these positive affirmations can be seen everyday.
[Click to Tweet this] 'Anyone who has never made a mistake has never tried anything new' #Einstein #quotes
Measure of Intelligence is Ability to Change by WallsthatTalkLife is Like Riding a Bicycle by USAMadeProductsA Person Who Never Made a Mistake by DanaDecalsEverybody is a Genius Wall Decal by StylesofLife
&ssIf you're featuring Albert Einstein Quotes on the Wall, then you may find some of these brief facts about him quite Interesting:

Some Facts About Albert Einstein
He was German Born March 14th 1879 and Died April 18th, 1955
Of course he developed the 'General Theory of Relativity', E = mc²
He was also pivotal in establishing Quantum Theory with his discovery of the Photoelectric Effect
He sent a pivotal and historic letter to President Roosevelt prior to WWII warning him that Hitler may create an atomic weapon
It's said that letter was the key reason the President entered the arms race to achieve the weapon before the Germans would
Despite Einstein's pacifist nature, he sent the letter due to his concern over Hitler achieving it's production first
He became an American Citizen in 1940
Before he married his first wife Marić (in 1903) they had a child together in 1902 (out of wedlock)
He never new that child (a daughter) – her fate is unknown (possibly adopted or passed away young)
With his first wife he had two sons, Hans Albert (1904) and Eduard (1910) – Both born in Switzerland
Divorced his first wife in 1919
He remarried in 1919 – His second wife, Elsa Löwenthal, was his first cousin on his mother's side, and second cousin his father's side
Stepdaughters Margot and Ilse were adopted
His massive intelligence made the word "Einstein" synonymous with "Genius"
Winner of the Nobel prize for physics in 1921
He lived in Germany, Italy, Switzerland, Austria, Belgium, and the United States
At the age of 76, he passed away from internal bleeding caused by the rupture of an abdominal aortic aneurysm
Einstein Wall Quotes on eBay:
About Barbara & Funkthishouse

Barbara is a home decor rebel who blames her decades in the real estate industry for her love of color! Since leaving neutral behind, she's built Funkthishouse.com, a place where souls once trapped in neutral-decor-world roam free and funk'n love it!

"Hey There! Thanks for stopping by today. I'm Barbara Cipak, Owner of Funkthishouse; a place where you can safely rebel against neutral decor.
My nutty passion is finding funky, colorful, and interesting products for the home or office. The products featured are suggested from companies I've established an affiliated relationship with, and in return, earn a small commission when items are sold. Visit FAQs for more about Funkthishouse and the whole funky story :)"
Barbara Cipak is an Independent Associate participant in the Amazon Services LLC Associates Program, an affiliate advertising program designed to provide a means for sites to earn advertising fees by advertising and linking to Amazon.com, Amazon.ca Endless.com, MYHABIT.com, SmallParts.com, Wireless.com- Amazon, the Amazon logo, MYHABIT, and the MYHABIT logo are trademarks of Amazon.com, Inc. or its affiliates.
Funkthishouse Terms of Use/Privacy Policy/Cookies