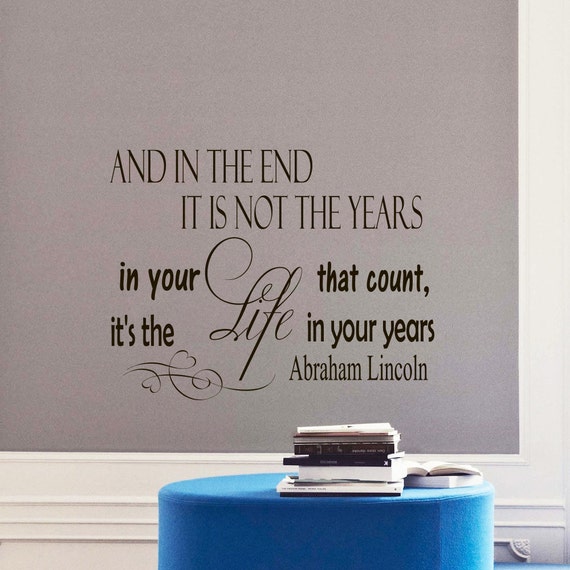 And in the End it's not the Years in Your Life Wall Quote by WisdomDecals
Abraham Lincoln Quotes in the form of Decals, Posters, Plaques and Stickers
Abraham Lincoln, born February 12th, 1809 and passed April 15th 1865, was the 16th President of the United States. He governed from March of 1861 to April 1865.
Below are some of his more famous quotations put in the form of wall lettering quotes, on posters and stickers. In the case of wall letter decals, they go up easily and can, in most cases, be re-positioned without the worry of wall damage.
Abraham Lincoln Wall Quotes are an educational addition to the home, office or classroom. They're not only decorative, but can inspire meaningful conversation.
Featured Quote: 'And in the end, it's not the years in your life that count, it is the life in your years' – A profound reminder to live each day to it's maximum – or at least make the effort a majority of the time. Living life this way requires conscious thought – Sometimes we forget to think and plan, so this little quote is there to remind us not to (think and plan).
Things Come to Those Who Wait Abraham Lincoln Wall Quote by DivineWallsWhatever You Are Be a Good One Wall Quote by DecalsForTheWallFolks are About as Happy as…Wall Quote by urbandecalThe Best Way to Predict the Future Wall Quote by DecalworldArt
Lincoln Wall Decals on eBay:
About Barbara & Funkthishouse
Barbara is a home decor rebel who blames her decades in the real estate industry for her love of color! Since leaving neutral behind, she's built Funkthishouse.com, a place where souls once trapped in neutral-decor-world roam free and funk'n love it!
"Hey There! Thanks for stopping by today. I'm Barbara Cipak, Owner of Funkthishouse; a place where you can safely rebel against neutral decor.
My nutty passion is finding funky, colorful, and interesting products for the home or office. The products featured are suggested from companies I've established an affiliated relationship with, and in return, earn a small commission when items are sold. Visit FAQs for more about Funkthishouse and the whole funky story :)"
Barbara Cipak is an Independent Associate participant in the Amazon Services LLC Associates Program, an affiliate advertising program designed to provide a means for sites to earn advertising fees by advertising and linking to Amazon.com, Amazon.ca Endless.com, MYHABIT.com, SmallParts.com, Wireless.com- Amazon, the Amazon logo, MYHABIT, and the MYHABIT logo are trademarks of Amazon.com, Inc. or its affiliates.
Copyright secured by Digiprove © 2015-2018
Acknowledgements: Products/Photos Affiliated